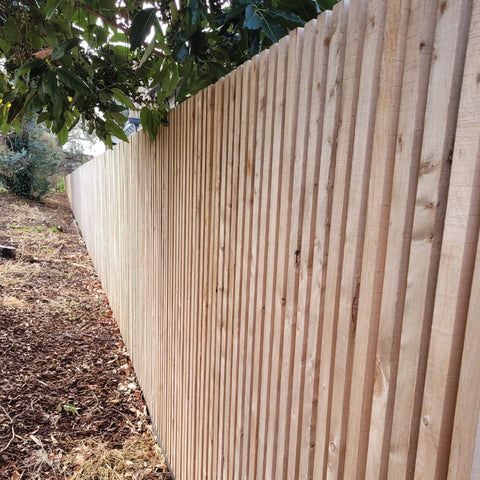 Cypress Macrocarpa Screening Battens making a fence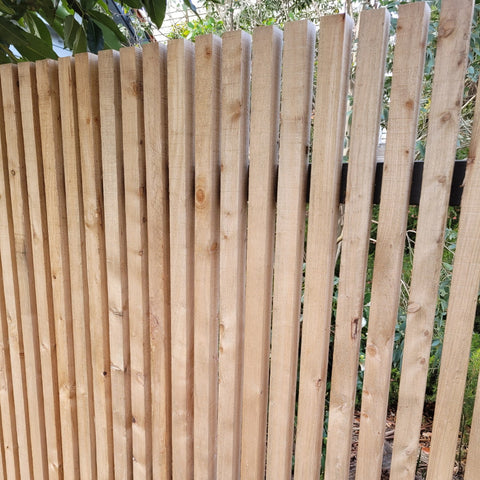 Cypress Macrocarpa - Sustainably Sourced Timber Batten Screening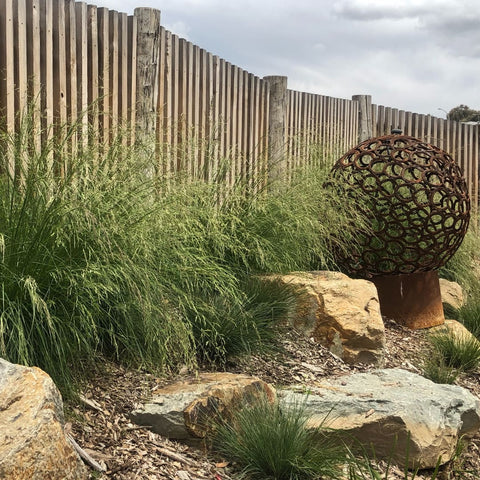 Cypress Macrocarpa - Sustainably Sourced Timber Batten Screening
---
Cypress Macrocarpa - Sustainably Sourced Timber Batten Screening
---
To make an enquiry for our timber batten screening please fill out the form at the bottom of this page or contact us here.
Cypress Macrocarpa (also known as Golden Cypress, Monterey Cypress and Californian Cypress) is an extremely versatile class three timber that is milled from windbreak trees across Victoria.  It is unfortunately extremely common for these trees to be suffering the effects of disease or simply old age, and so our use of them stops them from going to waste.
When freshly cut, Cypress Macrocarpa is a straw colour that will go grey if left to weather. There are a number of finishes that can be applied to delay that.
Cypress Macrocarpa is a stable timber that is termite resistant and durable. These battens can be used for fencing or any other privacy screening application.
Finish: Up to you!  
Dimensions available: 50x50mm
For any questions about our timber batten screening products, please contact us here.
Need a carpenter? We've got you covered.
Frequently Asked Questions
How is our wood sustainable?
CERES Fair Wood offers locally-sourced quality timbers from sustainable sources, connecting small-scale growers and millers directly to timber buyers. We know where our wood comes from and often, its exact source and history. Following a strict timber selection criteria process is CERES Fair Wood's difference. 
CERES is an environmental education centre, community garden, urban farm and social enterprise hub spread across four locations, linked by the Merri and Darebin Creeks on Wurundjeri Country, Melbourne. 
What is batten screening?
Batten screening (otherwise referred to as screen boards) is usually made from durable, long-lasting timber that is cut into thin vertical slats and placed closely together to make a screen-like appearance. This can be used as a semi-private fence, a separator, a climate controller and more. Timber batten screening is a popular fencing solution for its modern and pared-back aesthetic.
How long will timber batten screening last?
How long timber batten screening will last depends on the class of the timber. Class 3 timber is a durable wood that usually lasts around 10-15 years in the ground. The part above the ground will last longer as it is not surrounded by moisture as often as the bit in the earth. However, treatments can slow this degrading process.
What are the benefits of timber batten screening?
The benefits of timber batten screening are:
There are many different types of colour variations, grains and unique patterns on timber, allowing for various designs

Eco-friendly

They're a good climate controller

Easy to install compared to other fencing materials 

You can save money in the long run due to timber's longevity

They're beautiful
How do you maintain timber batten screening?
The key to maintaining timber batten screening is to keep it dry. You can achieve this by coating it properly with a UV and water-resistant product before fitting it. It's best to clean your screening when you notice dirt, stains or mould, and keep an eye out for any potential issues as you would with any natural product kept outside.
Your maintenance period depends on many factors involving weather, species of wood, and coating to name a few. On average, it can extend from every 1-5 years.